Version
Download

4

File Size

870.21 KB

File Count

1

Create Date

February 3, 2022

Last Updated

May 25, 2022
ABullets Object Exporter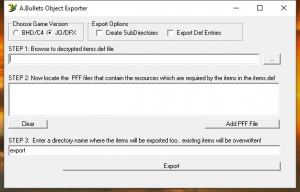 Export all files related to a 3di File
This is his updated version for JO and DFX as well as BHD and C4.
You need a decrypted def file for the game you want to extract..
It will pull all files in that def to a folder for each 3di
In that folder you will find all related info for that 3di..
Def file, 3di, textures, husk etc..